The Trooper: Fortuna in 'mien Blood' en op mijn lijf!
Strijdende Fans die ziel en zaligheid aan Fortuna verbinden laten dit met een tattoo zien. Een tattoe is er immers ook voor je hele leven . Bijgaande een prachtig overzicht van "de troopers" onder jullie met tattoe!  Heb jij trouwens ook nog foto's die je ook graag hier geplaatst zou willen zien? Dat kan! Mail deze naar webmaster@Fortunasc.nl en zeer waarschijnlijk worden die dan snel geplaatst!
prachttige Fortuna Sittard  tattoo!!
Tattoe uit Sanderbout: "Ons hart klopt geel-Groen!"
Tattoo FSC van Braveheart 🙂
prachtige Tattoo van Freek!
The classic one: Sittard
Schitterende tattoes met oude logo!
Sittard 4th generation
Sittard 4 life
Bjorn met zijn Zitterd tattoe
Uniek; FSC niet alleen in het hart, maar ook op de lippen
(oud) Zitterds stadswapen en Fortuna lacht/ Fortuna huilt
Mr. Driessen met zijn fantastische Sittard till I die tattoo
the one and only CFS: Casual Front Sittard
Fortuna Sittardia Combinatie en Bjorn met het nieuwe logo
Fortuna Sittardia Combinatie
Schitterende Casual's / Friendship Tattoe's
Fortuna S.
Fortuna Sittard Combinatie (FSC)
Schitterende Sittard Tattoe
Fortuna Sittard Combinatie
Fortuna Old scool tattoo
Schitterende FSC Tattoe
Schitterende FSC Tattoe
Prachtige Tattoe Fortuna Sittard                             Verbroederings Tattoe's Genkies & Sittard Casuals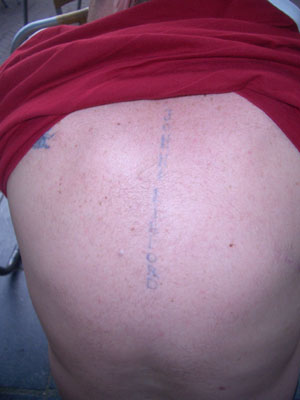 Tattoo Fortuna Sittard (Hempe)                                                  Tattoo John Linford (Hempe)
Tattoo Sittard (CFS)                               Tattoo Bende van Ellende (CFS)
Zitterd Till I Die (versie II)
Tattoo Zitterd                                                                 Fortuna op het hart
Zitterd Till I Die (versie I)